Welcome Message
The outbreak of COVID-19 has changed almost every aspect of our lives, not least the educational practices. Life, however, keeps going and we have to adapt ourselves to this new form of life which may linger for several months. For this reason, SUT has decided to launch the Online Summer School 2020. Students, graduates, and industrial experts from all around the world are more than welcome to join this interesting program that encompasses such wide topics as Mechanical and Materials Engineering to Philosophy, Management, and Foresight Studies.  This three-week program that will be held from July 27th to August 15th is a wonderful opportunity for students who want to make the most out of their summer by takings some condensed courses taught by the best professors of Sharif University of Technology. Furthermore, the successful attendees may choose to receive an official SUT certificate which can enrich their CVs. Please be advised that all course are fully taught in English and attending all sessions is required to receive the certificate. The detailed program will be announced on July 18th.
Eligibility:  Students, graduates, and industrial experts from all around the world are welcome to register in this program. It is the responsibility of the applicant to ensure that (s)he has the required background to take the courses.
Contact Us: all inquiries regarding the summer school should be sent to ia_st@sharif.edu, +98-21-66164780 (ext. 3)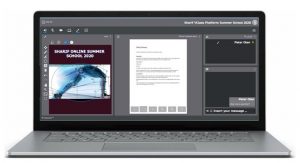 Platform: The sessions are delivered over Sharif's VClass platform and participants would have a chance to interact with the instructor in a real-time multimedia platform.
Recommended Packages:
Please note that each applicant can only choose a maximum of three courses. You may consider the following recommended packages:
Register Now!
In order to register, please fill out the following application form. Please note that you can only enroll in a maximum of three courses. However, since the holding of classes is subject to minimum enrollment, you are kindly advised to specify more courses in the order of priority. You will be enrolled in the first courses which reach the minimum enrollment requirement. The final results will be announced to the applicants on July 25th. 
Payment Procedure:
The invoice will be issued and sent to the applicants along with the final results on their admission and reaching the minimum enrollment on July 25th. The applicants are accordingly requested to make the payment through the official bank account of Sharif University of Technology at a branch of Bank Melli Iran in their respective country (Russia, Iraq, Afghanistan, Azerbaijan, Oman, Germany, UK, France, Bahrain, and UAE) in the course of one week and to send us the scanned version of the receipt to finalize their registration (local currencies are acceptable). Applicants residing in Iran can also make the payment through the online portal of the university. More details will be announced to the applicants in due course.