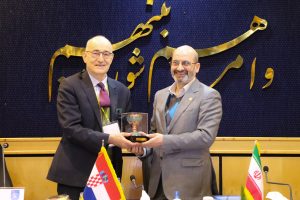 The esteemed ambassador of Croatia visited Sharif University of Technology (SUT) in order to expand joint cooperation between the scientific and research centers of Croatia and SUT.
On Monday, February 6, 2023, his excellency Dr. Drago Stambuk, the honorable ambassador of Croatia to Iran, along with the charge d'affaires of the embassy, Mr. Vladimir Honiak Ashtola, visited Sharif University of Technology.
Following this visit, a meeting was held in the presence of Dr. Jalili, the honorable President of the University, Dr. Masihi, Director of the International Affairs Office, and a number of faculty members of SUT in order to expand joint cooperation in the fields of science and technology between SUT and the prestigious educational centers of Croatia.
Other topics discussed at the meeting included facilitating the exchange of professors and students, conducting joint research with top Croatian universities, and holding dual degree courses.
The two sides agreed to exchange cooperation agreements in areas such as "management and economy" and take the necessary steps to sign them jointly after future coordination.
The meeting ended with the exchange of gifts by the parties and a visit to Sharif Technology Services Complex and Nano Technology Science Research Institute.