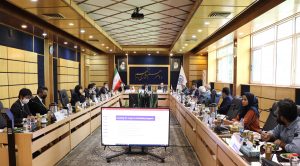 An esteemed delegation from Japanese Embassy and the Sasakawa Peace Foundation (SPF) met with the authorities of Sharif University of Technology (SUT) on Monday, July 25, 2022. This meeting was attended by several prominent figures including the President of SPF, Atsushi Tsunami, the Japanese Ambassador to Iran, Kazutoshi Aikawa, and the accompanying delegation. This meeting was hosted by the revered President of Sharif University of Technology, the Director of International Affairs, the Managers of Sharif Technology Services Complex, and a group of SUT professors.
The tour included visiting Sharif Technology Services Complex and finding out about its accelerator, incubator, start-up businesses, etc.
After the visit, a meeting was held in SUT President's office.  The circumstances of SUT and Sharif Technology Services Complex were praised by Atsushi Tsunami, who also expressed the importance of educating the next generation. There was an exchange of ideas on how to pave the way for future collaboration between SPF and SUT. A number of ideas came up, including but not limited to, providing hardware technological infrastructure, linking SUT with similar Japanese foundations, providing grants to disadvantaged war-torn students in the Middle East, especially Afghan women, and allocating more quotas to Japanese universities accepting Iranian students.
Both delegations presented gifts to the other party at the end of the meeting.