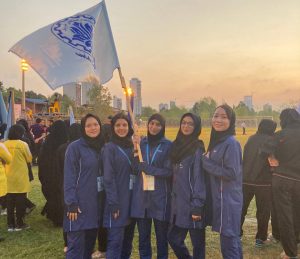 "Sports, a common language" was the motto chosen for the first ever Sports Olympiads for International Students held at Mazandaran University.
Because of its various capacities and 1,200 international students, Mazandaran University was chosen to host the event.
From August 29 to September 3, 2022, the male section of these competitions was held at Babolsar University, Mazandaran, and then the female section began from 5 to 7 September 2022, and Sharif University of Technology (SUT) sent 11 competitors for both sections from among its international students.
Some of the sports in the male section included Futsal, chess, badminton, swimming, etc. from August 29 to September 3, 2022.
SUT male international students, Syed Sibgatullah won the 1st place in "50M Freestyle", and "25M Breaststroke" in swimming, Komail Hmadeh 2nd place in "25M Backstroke" and "Breaststroke", Alireza Hashemi, Mehdi Yousefi and Mohammad Ameen Najafi 3rd place in "3x3  Basketball", and Syed Sajid Hussain finished in 4th place in Chess in these competitions.
With a total of 42 points in all the sports disciplines, SUT finished in 4th place in the male section of the competition.
Iranian universities organized their first sports Olympiads for international female students in various sports disciplines from 5-7 September 2022. More than 250 female students from Iranian universities participated in the competition held in Mazandaran University.
The female international students of SUT won two gold medals in 33M Backstroke and Freestyle swimming, placed second and sixth in 100M Dash in Track and Field, placed fourth in Weight Throw, and won third in Badminton (individual).
SUT placed 3rd with 47 points in total in the female section of the competition.
Khadija Femi with 1 gold medal, Syeda Amina Binte Zeneb with a gold and a silver medal, Zahra Mirzaei with a bronze medal, and Syeda Maryam finishing in 4th and 6th places were among the SUT students shining at this round of Olympiads.