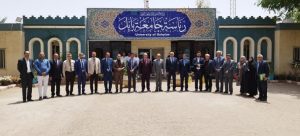 Sharif University of Technology (SUT) sent a delegation to Iraq on May 1st, 2023, to explore possibilities for academic collaborations with Iraqi universities. The delegation, which included the President of the Sharif University of Technology, the Director of the International Affairs Office, the Director of the International Students Office, and the Dean of the School of Management and Economy, visited several universities and research centers in Iraq.
The delegation was welcomed by the Iraqi Vice-President of Science and Technology, and discussions centered around potential joint scientific projects, student and faculty exchange programs, and bilateral workshops and conferences.
The SUT team also visited various state and private universities in Iraq, including the University of Baghdad, Al-Turath University, Al-Nahrain University, Babol University in Hillah, WARITH AL-ANBIYAA in Karbala, Al-Furat Al-Awsat Technical University, University of Kufa, and Al-Sabtain University.