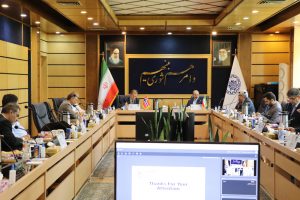 Sigwald Tomin Huff, the esteemed ambassador of Norway, and his deputy head of mission, Johannes Pecklet Fordal, visited SUT on 31 June 2022.
The meeting was hosted by Dr. Jalili, president of SUT, Dr. Masihi, director of international affairs, and some of SUT faculty members.
In addition to the emphasis on the expansion of scientific and technological cooperation between SUT and Norwegian academic institutions, the ambassador propounded ways to facilitate mutual international collaborations.
Exchanging academic staff and students, conducting joint research activities with Norwegian universities, and offering dual degree programs at Kish Island International Campus were among the subjects discussed at the meeting.
Environmental issues and Microplastics were specifically discussed as significant research topics. The meeting concluded with the delegation's visit to Sharif Technology Services Complex and one of the research laboratories.