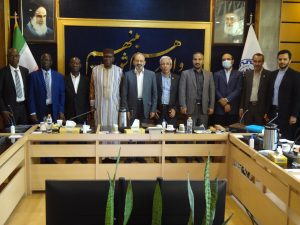 An international visit by the Minister of Higher Education and Scientific Research of Mali, Dr. Ahmadu Kita, and three of his colleagues to Sharif University of Technology (SUT) was organized on Monday, July 5th, 2022 as part of the efforts of SUT to expand the international cooperation with higher education institutions of different countries.
Following a visit to some laboratories and technology centers at SUT, the Malian Minister of Higher Education and Scientific Research and the Director of the Polytechnic Institute, and the Director of the Informatics Department of the Ministry of Science of Mali met with the university's president and other university officials.
At the outset, the delegation toured the Research Institute of Nanotechnology Sciences, Sharif Technology Services Complex, and one of the faculty laboratories to demonstrate what the university has to offer in terms of research, technology, and innovation, and to become acquainted with some of the university's knowledge-based companies' technological products.
After discussing and reviewing educational and research partnerships, the Malian delegation and university officials attended the university president's office for a lunch session. Among the topics discussed at the meeting were student exchanges, staff exchanges (short-term visits), and joint technology projects. A memorial was gifted to the Malian delegation by the honorable president of SUT at the end of this meeting.