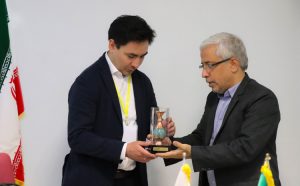 International Affairs of Sharif University of Technology (SUT) hosted a delegation from Kazan University, Russia, on Wednesday, June 15th, 2022.
Dr. Timirkhan Alishev, Vice President for International Affairs, and Mr. Rauf Sabirov, Dean of Admission to Kazan University, along with Dr. Mikhail Varfolomeev, Dean of the Faculty of Chemical Engineering, and Mr. Vladislav Sudakov, Deputy Director for Innovation Technologies, Institute of Geology and Petroleum Technologies attended this meeting.
The meeting was held at the Office of International Affairs and was hosted by Prof. Masihi, Director of International Affairs, Dr. Bazargan, Vice President for International Students, and Dr. Ghaffari, President of Kish International Campus.
SUT signed a Memorandum of Understanding with Kazan University in 2018, and during the meeting held on 15th June 2022, the institutions discussed areas of interest in defining joint industrial projects and holding joint dual degree programs on both SUT's Tehran campus and Kish Island campus.