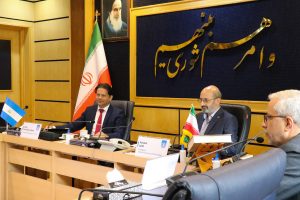 On Sunday, April 16, 2023, His Excellency Mr. Isaac Lenin Barao, the honorable ambassador of Nicaragua to Iran, and his accompanying delegation visited Sharif University of Technology (SUT).
This visit was accompanied by a meeting with Dr. Jalili, the Honorable President of SUT, intended to develop a cooperative relationship between SUT and Nicaraguan higher education institutions, particularly the National Engineering University of Nicaragua, in the field of science and technology.
The Nicaraguan Ambassador specifically emphasized the importance of expanding joint research collaborations and student exchanges between the higher education institutions of both countries.
Professors and students exchanging ideas and conducting joint research are among the most significant topics discussed.
Finally, following Dr. Jalili's presentation of the memorial to the Nicaraguan ambassador they visited several university facilities and units.