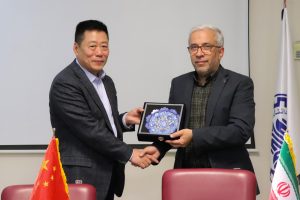 On April 11, 2023, Cultural Counsellor at the Chinese Embassy, Mr.Zhu Zihao, and his colleague Mr. Zhao Ziang attended the university's International Affairs Office and discussed scientific interactions between Sharif University of Technology (SUT) and Chinese universities.
The current efforts on scientific cooperation between Iranian and Chinese universities, in general, was also discussed since SUT is designated as the "Iran-China Academic Cooperation" center by the Ministry of Science, Research and Technology.
At this meeting, attended by a group of faculty members, Mr.Zhu Zihao (Rising China) deemed the proposal to form a union between Iranian and Chinese universities (similar to the current model between Iran and Russia) appropriate and wanted to follow up with the parties involved.
Moreover, regarding the student exchange program, it was mentioned that the Iranian president's recent visit to China had led to the establishment of 150 scholarships and that they considered this a positive step.
Moreover, a center for joint science and technology cooperation with China was suggested to be established at the university as well as a scientific cooperation office.