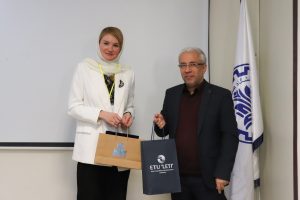 The Director of Sharif University of Technology's International Affairs Office، Dr. Mohsen Masihi، met with Dr. Anastasia A. Minina, the Vice-Rector for International Affairs at Saint Petersburg Electrotechnical University (ETU "LETI"), in order to discuss collaborative research and educational activities between Sharif University of Technology (SUT) and ETU "LETI".
The meeting was held in the International Affairs Office on Monday, February 27, 2023 at SUT. The Director of the International Affairs Office, Dr. Mohsen Masihi discussed possible solutions to increase effective interactions and collaboration with the prestigious Univeristy of ETU "LETI" and to think of ways to make possible future MOUs between the two universities.
Inviting prominent professors in various fields of technology, hosting joint educational and research webinars, inviting certain professors, and starting joint courses are among the details of the discussions.