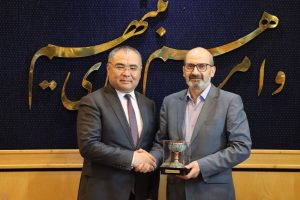 The President of Sharif University of Technology (SUT), Dr. Jalili, along with the Vice-President of Research and Technology, the Director of the International Affairs Office, and the Director of the International Students Office, welcomed the Minister of Science and Innovation from the Republic of Uzbekistan and his delegation.
During the meeting, SUT showcased its technological capabilities and strengths, and both parties discussed potential collaborations on scientific and cultural issues. The two sides also agreed to cooperate in the fields of energy and computer engineering, with the aim of establishing bilateral partnerships.
Furthermore, the delegation and SUT representatives exchanged ideas on how to establish science and technology parks and accelerators, as well as shared their experiences in this area.
The Uzbek delegation also had the opportunity to visit knowledge-based companies in SUT's innovation center, technology offices, the Sharif Technology Services complex, the Sharif Entrepreneurship Center, and some startups.
The meeting concluded with a positive outcome, as both sides expressed their willingness to continue working together and strengthening their cooperation in the future.